Delays to new Newtown bus service and route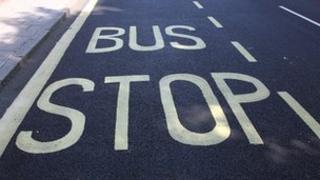 The opening of a new road and bus service in Powys has been put off until the new year after a tender process for the routes was delayed.
The road linking Trehafren housing estate with Newtown town centre was to open earlier this month.
But Powys council said due to issues beyond its control, tender documents to bus firms were slow being sent out.
The road, which has cost £120,000, will create a quicker link between Trehafren housing estate and the town centre.
Work on the route, which goes past Newtown Football Club's Latham Park and into Park Lane, was finished a few weeks ago.
Buses travelling between the housing estate and the town currently use Llanidloes Road, which is often heavily congested.
Newtown mayor Val Howard said she was disappointed the new bus service had been delayed.
"Not everybody has a car and there are a lot of elderly people living on Trehafren, which is roughly a mile away from the town centre.
"This new service is essential to people living on Trehafren. There is currently a bus service between Trehafren and the town centre, but it takes quite a long time because it stops at other housing estates along the way. The new route is a direct link."
Montgomeryshire assembly member and Powys county councillor Russell George said it was disappointing that a valuable bus service was not up and running.
"Access to good quality and affordable public transport is vital to the residents of Newtown to access places of work, learning, health care and shopping," added Conservative AM Mr George.
"This need is even more acutely felt by the elderly and vulnerable in our community who rely on regular bus services as their life-line to the outside world.
"This delay is going to be felt by these groups more than anyone."
'Teething problems'
Powys council said it hoped to open the route early in the new year.
A council spokesman said it had anticipated starting new bus contract arrangements at the beginning of September.
"However, due to a number of issues beyond our control, we did not get the tender documents out in sufficient time to allow for the new contracts to start in September but we anticipate new contracts to start in the new year," said the spokesman.
The council was looking at how to accommodate the new bus lane and ensure all passengers can still access the service.
"We believe that this can be achieved fairly quickly so that any teething problems with the new link road can be resolved before we start to send buses in each direction through the lane every half hour in the new year," added the spokesman.