2nd Battalion The Royal Welsh: Soldiers in Cardigan march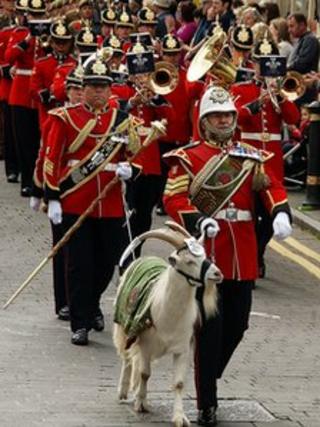 Soldiers from the The Royal Welsh regiment have marched through a town, exercising a right given to them three years ago.
Troops from the 2nd battalion were joined by the Band of the Prince of Wales Division in Cardigan on Thursday.
The Freedom of Ceredigion was conferred on The Royal Welsh at a ceremony in Aberystwyth in 2009.
It means the regiment has the right to march through the streets of the county.
It is allowed to parade with colours flying, bayonets fixed, drums beating and bands playing.
The troops were joined by the Band of the Prince of Wales Division, and were led by Taffy the Regimental Goat and the Goat Major.
Army cadets and ex-servicemen from the county also marched.
The parade stopped outside Cardigan's Guildhall where it was met by Ceredigion council chairman and town councillor Mark Cole and Brigadier Philip Napier, head of the Army in Wales and colonel of the regiment, and other distinguished guests.
Addressing the people who had turned out to watch the parade, Brigadier Napier said: "As the colonel of regiment representing the Royal Welsh, it's a very great honour and privilege that we are back here in Ceredigion after many years since the Freedom of the County was conferred on us.
Military Crosses
"It is a particular pleasure for the parade to be held in this lovely and historic town that has such strong connections with our forebears in the Royal Welsh Fusiliers and the Royal Welsh Regiment."
He said since the formation in 2006, The Royal Welsh had been on operations almost continuously, both in Iraq and Afghanistan.
He said the regiment has no fewer than five Military Crosses, one operational CBE, two operational OBEs and a staggering 15 Mention in Despatches.
The battalion deployed as sub-units to Afghanistan from 2009 to 2011.