RSPCA's £11k bill after Sharon Harrington-Hawes appeal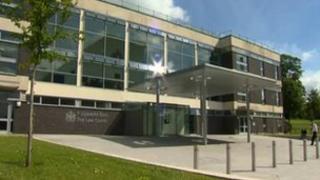 The RSPCA has been left with a bill of nearly £11,000 after a woman failed to overturn a ban on keeping cats and dogs.
Sharon Harrington-Hawes, 56, of Carno, Powys, was convicted in February of keeping six cats while already banned.
Mold Crown Court heard on Friday that it cost £725 a month to keep the cats at a cattery during the appeal, which, plus legal costs, totalled £10,780.
Judge Niclas Parry dismissed her appeal which he said had gone on "too long".
In May 2011, six cats were seized by the RSPCA from Harrington-Hawes' home.
'Professionally embarrassed'
Mold Crown Court heard she had been disqualified from keeping cats and dogs in April 2002 for causing unnecessary cruelty to 14 dogs.
Harrington-Hawes was convicted by Welshpool magistrates in February of having the cats while she was disqualified and was fined £100, plus £900 costs and her ban was extended for five years.
The magistrates made a deprivation order for the cats to be seized and re-homed by the RSPCA.
However, the cats had to be kept in a cattery while she appealed against the conviction.
At the start of the appeal her barrister withdrew because he was "professionally embarrassed," the court heard.
Judge Parry, sitting with two magistrates, refused an application for an adjournment for her to seek new legal representation.
"This matter has dragged on for far too long," he said.
"There has been a change of representation more than once and several opportunities have been given to you to seek representation."
Harrington-Hawes told the RSPCA she thought the original ban only applied to dogs, the court heard.
Judge Parry said: "The appellant confirmed that during the original trial she was legally represented and she was present when the ban was delivered.
"We are satisfied she would have been aware that included both cats and dogs."
He made an order upholding the magistrates' decision that Harrington-Hawes contribute towards costs.