Cardigan castle director leading restoration resigns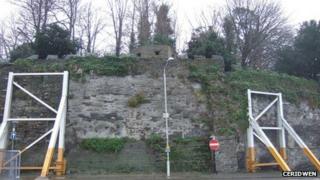 The director of Cardigan Castle has left his post only a few months after being appointed.
Steffan Crosby was appointed back in June to lead the £11m restoration of the 12th Century monument.
A spokesperson for the Cadwgan Trust, which is managing the work, said there was no danger to the future of the project.
The project's finance officer Cris Tomos has taken over on an interim basis.
He told BBC Wales: "We were all appointed on a probationary period for six months and there was a review after three months.
"Mr Crosby felt that his expertise was running visitor centres and heritage work.
"The work at this time entails managing contracts, so he decided to leave the project."
Plans include a museum, workshops and a cafe, while the castle walls, buildings and gardens will be revamped.
The aim is to increase visitor numbers from 3,000 to 30,000 a year.
Cardigan Castle was built in the 12th Century by the Norman Gilbert de Clare, and passed to his son.
It was captured by Rhys ap Gruffydd in 1136 and passed back and forth between Welsh and Norman hands over the next century.
The castle was claimed by Edward I at the end of the 13th Century. It suffered damage during the English civil war and lay uninhabited until the early 19th Century when a private property was built on site.