Street lights to go back on in Powys as low energy LED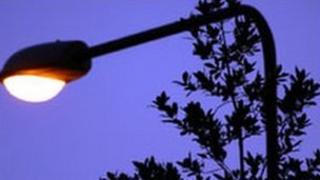 Thousands of street lights turned off by a council to save money four years ago are to be switched back on under plans to use low energy bulbs.
Powys council is to spend £1.4m installing LED bulbs in 14,000 lights, including the 4,770 it blacked out.
The council angered some communities when it turned off the lamps in 2008.
Jonathan Greatorex, who led a campaign against the blackout, said he was delighted the council had "finally seen the light".
Some lights initially switched off four years ago were turned back on at certain times following a review, while some individuals and town councils paid for their lamps to stay on.
The authority said the aim of the new project was to reduce energy consumption, provide adequate lighting in sensitive areas and cut the cost of maintaining street lighting.
The proposal was approved by the council's cabinet on Tuesday.
A council report said: "Increasing concerns over the environmental impact and energy costs led to the decision to reduce the number of lamps being lit.
"Low energy LED lighting technology is evolving rapidly. The efficiency of the lanterns is improving and the unit cost is reducing.
"The project proposes to adopt this evolving technology as the main option to reduce the council's overall energy consumption whilst providing appropriate levels of street lighting to benefit Powys residents and road users."
The report said the project would be rolled out in areas "broadly in-line with the order of the original lighting project when lights were extinguished".
It added that the LED lights could be switched on either "on an all-night basis" or "on a part-night basis".
The council has also been trialling lights that dim during part of the night.
Mr Greatorex, who led the Light Up Powys campaign, said: "I'm delighted Powys council has finally seen the light. Its original project was immensely unpopular at the time
"LED lights were something we championed back in 2008.
"The council's plans are hugely sensible and will keep Powys residents safe in the dark winter months."
LED lights have already been introduced in some areas of the county under a previous scheme, but councillors voted to see them introduced in all areas.
The new bulbs will start to be installed next month and the work will take a year to complete.
Several other Welsh councils have switched off street lights in residential areas to save money.