Welshpool canal: Two oak lock gates lowered into place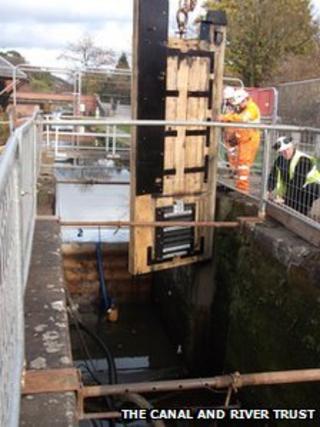 Two replacement gates weighing 3.6 tonnes each have been lowered into place at a Grade II-listed canal lock.
The gates have been installed in Welshpool, Powys, as part of a £50m scheme to replace 104 along 2,000 miles of waterways in Wales and England.
The Canal and River Trust, which is carrying out the work, said the work in Welshpool was costing £38,000.
The "historically significant" lock dates from the 1790s, while the gates are replacing a pair from 1973.
The Canal and River Trust charity took over responsibility for canals and rivers in England and Wales from British Waterways in July.
It said the lock in Welshpool was at the heart of the town and replacing the gates, hand-crafted from oak, was part of some essential maintenance.
Vince Moran, the trust's operations director, said: "Repairing, maintaining and caring for the canal and river infrastructure underpins the cause of the trust.
"We spend around £50m every winter on lock gate repairs and replacements, brick work repairs to lock chambers as well as embankment maintenance, essential works on reservoirs an many other activities.
"We have 25,000 different assets that we maintain and care for every year, which involves a wide range of expertise across many disciplines including civil engineering, operational specialists, heritage experts, environmental specialists and water management."
Members of the public will be given a chance to explore the empty canal lock in Welshpool on Saturday 17 November between 10:00 and 16:00 GMT.
The neighbouring Powysland Museum will be open, with experts giving talks about the heritage of the of the local canal network and local history.