Bat refuges built into Brecon bridge revamp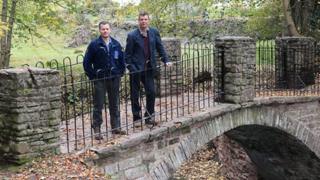 Special bat refuges have been built into a bridge after old roosting places in cracks and crevices were filled in during a restoration project.
Small holes were made in the walls of the footbridge in Brecon, Powys, for the creatures during the refurbishment.
Brecon Beacons National Park said it needed special permission from the Environment Agency to do the work.
It said common pipistrelles and Daubenton's bats were most likely to use the new refuges.
Forge Cottage Footbridge, over the River Honddu, is in Priory Groves woodland, a Site of Special Scientific Interest.
The national park authority said trees near the bridge were home to bats and nesting birds, while the Honddu holds protected crayfish, spawning fish and otters.
The bridge maintenance work was completed by Brecon Beacons National Park Authority and Powys council last month.
The park authority said the bridge had played an important role for wildlife, and cracks and crevices in the deteriorating walls had provided roosts for bats.
The park said it felt it was important that special bat refuges were incorporated into the restored bridge walls.
Martin Buckle, a member of the Brecon Beacons National Park Authority, said: "I think it is fantastic that we've been able to help conserve this bridge while at the same time protecting local biodiversity.
"This reinstatement work is a shining example of what can be achieved by working in collaboration with other local authorities."