Archaeologists probe River Leri wrecks near Aberystwyth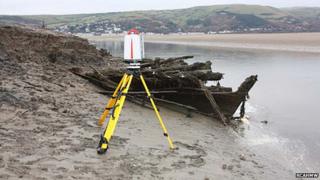 The wrecks of three 19th Century boats are being examined by archaeologists after heavy rain eroded their watery final resting places.
The 65ft (20m) vessels have been in the River Leri, near Aberystwyth, since the 1860s.
It is believed they were used to transport slate from mines in Gwynedd to ports for export around the world.
Experts said the wrecks had appeared in recent years after heavy rain and high tides had eroded the riverbank.
The Royal Commission on the Ancient and Historical Monuments of Wales (RCAHMW) has been examining one of the wrecks with help from Aberystwyth University.
Using laser scanning, they are creating a 3D image which will help them draw up plans and assist archaeologists in understanding more about the boat.
The project's team leader Louise Barker said the former slate-carrying vessel was eroding out of a steep bank in the River Leri at Ynyslas, near the village of Borth.
"The vessel is one of three wrecks in the area, all of which were depicted on an admiralty chart of 1892," said Ms Barker, an RCAHMW archaeologist.
"They are thought to have been part of the Derwenlas [near Machynlleth] slate-carrying fleet, responsible for transporting slates from the Corris and Aberllefenni quarries.
"The vessels became redundant following the arrival of the railway, and around 1868 were put to their last useful purpose as markers in the channel.
"Recent monitoring of the wreck by the Malvern Archaeological Diving Unit highlighted the increased erosion and exposure of the vessel and it was therefore important to make an accurate record, both to provide benchmark data for future monitoring and also, in the worst case scenario, ensure preservation by record."
Ms Barker said the boats were not scheduled monuments and protecting them would be a matter for the historic monuments agency, Cadw.
She warned against the public examining the wrecks because they are in a potentially dangerous tidal area and on a Site of Special Scientific Interest.