Next stage in £20m Cardigan hospital scheme to start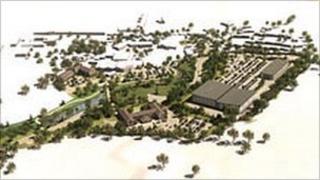 The next stage of a £20m project for a new hospital in Ceredigion is starting after a deal for the building land finally went through.
The hospital, which will include a GPs' surgery, is part of the £50m Bath House project in Cardigan.
Hywel Dda Health Board said it could now appoint a design team and contractor, with interviews scheduled to take place in December.
There had been a dispute over the land for the hospital.
The health board said in March last year the land deal was being finalised, but it has recently only been completed.
The Bath House scheme also includes a supermarket and housing.
The first phase of works started in 2009 when 48 flats for the over 55s were built. Ceredigion council's planning committee then backed plans for a Sainsbury's store in March 2011.
The health board's Cardigan hospital project board said the latest development in securing the land was a major step forward in delivering the project.
'Fantastic news'
Hywel Dda's director for Ceredigion Jeremy Brown said: "Along with local GPs, social care and other partners, we are pleased to announce the purchase of the land at the Bath House site is now complete.
"This is fantastic news as we can now proceed to the next stage of engaging a design team and appointing a contractor, with interviews scheduled to take place in December."
The health board said the Cardigan stakeholder board, which included local people, was delighted to hear the news, and agreed it was the most positive step forward to date.
An outline business case for the scheme will now be submitted to the Welsh government.