Bronglais Hospital ward closure 'must not be permanent'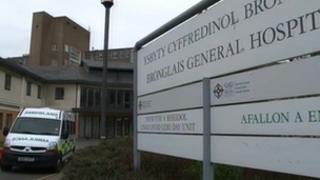 An MP is urging health chiefs to keep an Aberystwyth hospital ward for mental health patients open after it closed amid staff shortages earlier this year.
Ceredigion MP Mark Williams has written to Hywel Dda Health Board insisting the closure of Afallon ward at Bronglais Hospital must not be permanent.
The health board has been asked to comment, but it said in July the ward's future was under continuous review.
Some patients have been moved 50 miles (80km) to hospital in Carmarthen.
Hywel Dda said in July there were not enough qualified staff to provide "appropriate and safe care for patients on that ward".
Staff and consultants providing the service advised the board to shut the ward, it added.
Mr Williams said some of his constituents were finding it difficult to make the long journey from Ceredigion to Glangwili Hospital in Carmarthen.
"This closure is affecting many of my constituents and their families who are now having to make regular journeys to Glangwili in order to visit their loved ones and provide them with the support they need," Mr Williams said.
"This is proving very costly in terms of fuel as well as difficult for those who are working full-time but who are also naturally very anxious to stay in touch with their close family members.
"I have written to both the Welsh government health minister and the chief executive of Hywel Dda demanding that this closure must not be permanent."
In the wake of the ward closure, Mr Williams said he understood a steering group had been looking at ward staffing issues and maintained there had been "no expressions of interest from potential staff recruits at all".
Demonstration
He added that he had "very little faith" in a board statement in the summer in which it said every effort was being made to maintain and improve the service on the ward.
"The board has had plenty of time to sort this out and I am surprised that efforts were not taken to secure appropriate staffing levels much sooner, well before the ward was closed," Mr Williams said.
Earlier this year, hundreds of campaigners held a demonstration outside the Welsh assembly, prompted by fears that services could be moved from Bronglais.
But the health board has said the decision affecting Afallon ward was not part of the ongoing review of services.