Llandrindod Wells Bowling Club council cuts future fear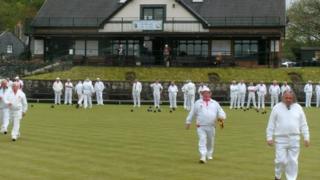 A leading international bowls venue could be under threat if a council backs plans to stop maintaining its greens, a club claims.
Llandrindod Wells Bowling Club could lose £30,000 a year from Powys council which it spends on keeping its three test match pitches up to scratch.
The authority maintains 10 bowling greens and three cricket pitches in mid and south Powys, but none in the north.
But it deferred a decision to scrap maintenance funding on Tuesday.
The council, which says it is under financial pressure, had recommended the plans for approval at its monthly cabinet meeting. The local authority hopes the proposals will save a total of £100,000.
But a spokesman said councillors had deferred the decision until March for further consultation to take place over the proposals.
After Tuesday's meeting, Llandrindod Wells Bowling Club secretary Graham Rees said he was pleased.
"I'm not sure how much effect this will have on the council's final decision, but we're pleased there is more time for further consultation," he said.
Before Tuesday's meeting the club warned that the plans could put it in a "very difficult position", and could threaten its status as an international venue.
As part of its maintenance deal with the council the club has a green keeper from 1 April until the end of October, but this could be lost under the cost cutting proposals.
Mr Rees said it was Wales' largest bowling club with 155 members and played host to the Welsh Bowling Association's national championships, test matches and this year staged a home nations championship.
'Crucial work'
Mr Rees said the town's economy could suffer too.
"Llandrindod Wells is an international bowls venue and the business that comes to the town as a result of our events is considerable," he said.
"The club is one of the, if not the, biggest earners for Llandrindod Wells."
He added: "It's almost impossible to get grants to pay for maintenance, so the council's plans could put us in a very difficult position.
"Maintenance isn't just about cutting grass - it's about preventing disease, watering the greens, making sure they're spiked. It's crucial work.
"The council plans to reduce our funding over a period and after four years we'll be expected to pay our own maintenance costs."
Brian Rogers, the secretary of the Welsh Bowling Association, said the council plans were "very disappointing".
He said: "If the greens drop below a certain standard then other countries will not play there. The plans certainly put Llandrindod Wells under threat as an international venue."
Mr Rogers said bowls was played by 250,000 people in Britain and there were 280 clubs in Wales.
There are 30 bowling greens and 17 cricket pitches in Powys, but the council only maintains a proportion which it says is unfair on the majority.
The clubs affected will be responsible for maintaining their own pitches from next April, but the council will provide grants for three years to help them adjust to the change.
'Financial pressure'
"For historical reasons there is great disparity between the way that bowling greens and cricket pitches are managed and maintained in the north of the county compared to those based in the mid and south of the county," said Stuart Mackintosh, the council's head of countryside services.
"At a time of financial pressure we cannot increase spend for a discretionary service and are planning to reduce our overall support."
Mr Mackintosh said lengthy discussions had already taken place with affected clubs to discuss the options for change.
"We are also proposing to provide training and some equipment to help clubs manage their pitches," he added.