April Jones hunt: No end date for search, say police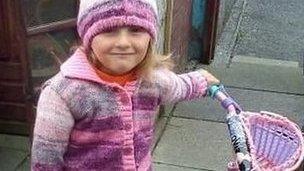 The search for missing April Jones will continue and there is no end date for the operation, police have revealed.
Dyfed-Powys Police say her family have shown great character in coming to terms with the fact they will not see the five-year-old alive again.
She went missing from her home in Machynlleth on 1 October, 10 weeks ago.
Coral and Paul Jones said their pain was getting no easier to bear, adding: "We realise that this is a big news story, but to us it is our life".
The family said in a statement they were taking each day at a time with support from the police. "The messages and support from all over the world have continued and we remain grateful that we are in people's thoughts and prayers."
"The empathy shown towards us by not only local people but those from afar has shown us that people really do come together during difficult times.
"We are extremely grateful to Dyfed-Powys Police for their continued efforts to find April. The dedication and determination shown by the search teams who have come from all over the UK has been truly amazing.
"We take comfort to think that they will be returning to their families to earn a well deserved rest over the Christmas and New Year period.
"We understand that Christmas will be a particularly difficult time without April being amongst us but as parents of Harley and Jazmin we will obviously acknowledge the festive season as best as we can.
"We sincerely hope that families around the world will enjoy a peaceful and loving Christmas."
Supt Ian John praised the family, saying they had shown "great strength of character throughout their ordeal as they have come to terms with the fact that they will not see their daughter alive again.
'Great strength of character'
"Showing great dignity and resilience, they chose to maintain their privacy and chose to focus on their family and making sure they get through these tough times together."
He said it was one of the largest search operations in police history and there were still officers from all over the UK helping with the search, including from Staffordshire, West Yorkshire, Sussex, the Met and British Transport Police.
"This week again we have had 16 search teams, comprising a search leader and six officers, as well as twelve CSI dogs with their handlers out on the mountain and valleys in and around Machynlleth, in all weathers, carrying out systematic and methodical searches of the challenging terrain.
"Specialist teams from other agencies and organisations have been searching rivers and the sea; mines and quarries; and various other confined spaces on the hillsides of Machynlleth.
"Volunteers from a number of mountain rescue teams have walked for miles over the mountain sides all working together looking for clues and evidence that may help us find April."
He added: "We will keep looking until we are satisfied that we have exhausted all lines of inquiry.
"We are not putting an end date on the operation, and we are not willing to speculate how much longer it will last, but we will say that we are committed to stay here until we can be sure that there are no more viable places to look for April's body."
Supt John added that the search would be scaled down over the Christmas period but would nevertheless continue.
Mark Bridger, 47, has been remanded in custody, charged with murder, child abduction and perverting the course of justice.
Related Internet Links
The BBC is not responsible for the content of external sites.