Powys school bus: Talgarth anger at Gwernyfed cut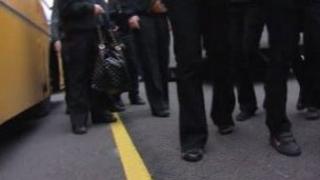 More than 20 high school pupils are facing a near-three mile (5km) walk to school from next month after a council said it was stopping their bus service.
The children from Talgarth attending Gwernyfed High School, near Hay-on-Wye, are affected by the Powys council decision.
Under a new bus contract the pupils no longer qualify for the service for which their parents pay £95 a term.
Powys council said parents had been warned the service was not permanent.
Children living more than three miles from the school qualify for a free bus, but those living less than that have to pay the £95 fee to use the bus.
Parents said Talgarth was right on the three-mile limit and some of its children travelled for free, while about 23 had to pay. A further 12 to 15 children affected by the policy found their own way to school.
They said under a new contract a smaller school bus would serve Talgarth in January which meant there would be no room for the 23 fee-paying pupils.
The council informed parents of the decision in a letter last month and said the children could use a path to walk to school.
Parents have reacted angrily and have formed an action group, Talgarth - Bus Action Group (T-Bag), in an attempt to reverse the decision.
Parent Elaine Bowen said the path was not safe and flooded regularly.
'Public safety'
"The council says there's a cycle path our children can use to walk three miles to school, but there's no way my 13-year-old son is going to do that," she said.
"The path floods regularly and it is not lit. There is a health and safety and public safety issue here, and because of this we want the council to reverse its decision."
A Powys council spokesman said: "The county council operates a vacant seat scheme which allows parents to pay for transport when they do not qualify for free transport either for distance or because they have chosen a school outside of their normal catchment area.
"Parents are warned from the outset that the scheme is not permanent and can be withdrawn at any time if seats are no longer available.
"While every effort is made to accommodate passengers needs seats are allocated each term and there are no guarantees that they will be available permanently."
The council said parents had been given advice about bus operators in the area and information about public service routes.
It added that there was a cycling and walking path between Talgarth and Gwernyfed, which was built in 2005 at a cost of £250,000 as part of the safe routes to school initiative.
Mid and West Wales AM and Powys county councillor William Powell said the authority's duty of care in terms of child protection was clear and he hoped common sense would prevail.