A gift for a First Minister? A poncho, says Rhodri Morgan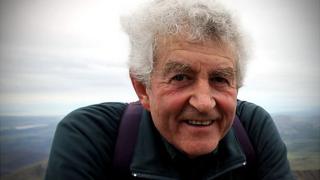 As people unwrap their presents this Christmas BBC Wales has been looking at the sorts of gifts politicians receive in the course of their official duties in a typical year.
So what do you present to the political leader of nation, such as First Minister Carwyn Jones?
Without wanting to cause a diplomatic incident, nothing startling, according to official documents.
Mr Jones's predecessor Rhodri Morgan appears to back this up by admitting that some of the things he received during his near 10 years as first minister were "humdrum".
But some appealed to him, including a poncho from South America and Groggs of rugby stars Gareth Edwards and Gareth Thomas.
Gifts can come from overseas dignitaries, organisations and can be tickets to major sporting events.
Those gifts valued up to £260 can either be kept by ministers - in accordance with the ministerial code - or by the Welsh government.
Among the items presented to Mr Jones in 2011-12 were a crystal bowl valued at £130, three books on Brittany and Breton worth £25 and a replica Ryder Cup trophy, value unknown.
In 2010-11 a slate plaque, a miner's lamp and abstract artwork of daffodils - all valued at £10 each - were among a number of items he was given.
Mr Morgan, who was first minister between 2000 and 2009, said he was given a poncho on a visit to Patagonia.
"It's one of my proudest possessions," said Mr Morgan, 73.
"I was given it with a pair of silver spurs should I wish to ride on horseback in Wales, but I left those in the office because I hope I'm not a cowboy," he joked.
"The poncho is made from very, very rough wool. It would keep you warm on a night under the stars.
"I don't tend to wear it, only for fancy dress purposes at Christmas to entertain the grandchildren."
Perhaps one of the more mundane gifts Mr Morgan received was a framed photograph of a completed bypass in Llandysul, Ceredigion.
But the former Cardiff West AM said those sorts of gifts were meant to "sign off a job of work done".
They also come in the form of tickets for sporting events, such as a rugby match or the 2008 FA Cup final between Cardiff City and Portsmouth.
But often, Mr Morgan said, they would be bottles of wine, "whatever was made in the locality I was visiting, or perhaps it would be a coffee table book".
"Some of them (gifts) went into storage, never to be seen again," he added.
"When you finish as first minister they ask you what you'd like to take with you. I took the poncho and a few other things, including Groggs of Gareth Edwards and Gareth Thomas."
But where did he keep the gifts when he was in office?
"Well, as first minister you get quite a big room, but I re-jigged it to include secretarial staff so it was smaller," he said.
"But in the office was a big bookcase and that was full of coffee table books from whatever country you were visiting."