Dyfed-Powys Police: Good service pledge as budget rises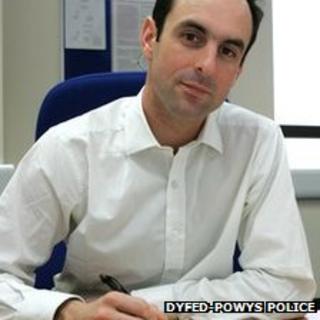 A rise in the Dyfed-Powys Police budget will provide an "effective service" while keeping costs down for householders, says Police and Crime Commissioner Christopher Salmon.
He spoke after proposals were agreed to increase by 3.9% the amount of the budget funded by the council tax.
It means that the annual precept would increase to £206 from £198 for people living in Band D council tax homes.
Mr Salmon said policing could improve "even in tough financial times".
The Dyfed-Powys Police and Crime Panel accepted his plan, which means the force's budget will be £98m in 2013/4.
Mr Salmon, a Conservative, said the rise was smaller than increases of between 4.2% and 5% in recent years, and equivalent to an increase of 14.9p per week for the average Band D home.
"My challenge is to balance the need between providing an effective police service that people can trust and minimising any costs to taxpayers," said Mr Salmon. "I think my proposals achieve this.
"The budget allows scope for much needed investment in new facilities and leaves us well positioned to cope with unexpected events in future. Thanks to the excellent work of all in the police, we continue to improve our service even in tough financial times."
The proposals are open for public consultation until 6 February.