Deal for 'free' Hay-on-Wye school in jeopardy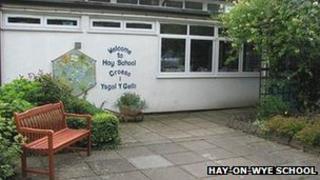 Plans by a developer to build a primary school in Hay-on-Wye, Powys, as part of scheme for a new supermarket are in jeopardy.
Gaufron Developments had planned to demolish the existing school, build a store on the site and construct a replacement 240-pupil school.
But Powys council said there was now a question mark over whether the school plan was value for money.
Gaufron Developments has been asked to comment.
The council said the initial proposals for the scheme seemed positive, but more detailed discussions revealed problems and it had now asked Gaufron to come back with a better offer.
It said if the deal fell through it would build a new school in Hay in the next two years anyway, but it would be at taxpayers' expense.
The local authority revealed in August 2011 that developers had offered to build a replacement 240-pupil school.
The school, along with land owned by the town's sports association and the developers, is earmarked for the retail development.
But there has been opposition to the scheme.
Council leader David Jones said: "The need for a new 240-pupil school in Hay-on-Wye has been recognised for some time and the council had been in discussion with a developer.
"That scheme, if successful, could have provided a new building without cost to the council in exchange for a retail development taking place on the existing school site.
"While initial proposals seemed positive detailed discussions revealed a question mark over the plan's value for money. As a result the council has asked the developer to produce a final best offer."
An action group was formed two years ago in opposition to the new supermarket.
The chamber of trade said at the time the town's "thriving" high street could be put at risk by the supermarket.