Powys stroke rehabilitation unit's move to Brecon hospital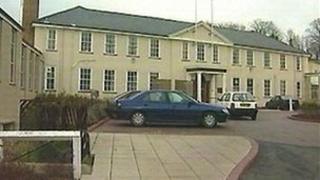 Health chiefs in Powys have approved plans to switch stroke services from one hospital to another.
Powys Teaching Health Board says stroke rehabilitation services will move from Bronllys Hospital to nearby Breconshire War Memorial Hospital.
The aim is to cut the number of Powys patients who may need to be transferred to Abergavenny or Hereford for tests.
The move follows public consultation last year when the board received more than 140 responses to its plans.
Despite the proposals to transfer its stroke unit, health officials have said Bronllys Hospital will retain other outpatient services, such as its Parkinson's and urology units.
In the longer term the health board has said it will look for an alternative in the Hay and Talgarth area due to the limited working life and condition of buildings at the Bronllys site.
Health board chief executive Andrew Cottom said: "The decision to move stroke services was taken due to the overall clinical benefits, and improved outcomes that patients will receive from the service being located in Brecon.
"During the consultation process there was considerable support from the public for Bronllys Hospital and the services it provides and the decision of the board also included a commitment to bringing forward a plan for the future of Bronllys Hospital by early 2014."
The board said it would make improvements to parking problems at Brecon hospital following its decision, but access to public transport was still an issue.