Beguildy primary school closure goes ahead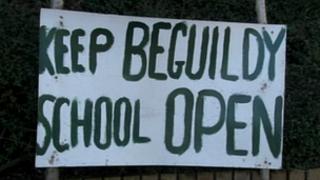 A small school in Powys is to close after councillors decided they could not afford to keep it open.
The council said the cost per pupil at Beguildy primary school, near Knighton, was well above the county average and just too high to continue.
Campaigners said they were devastated the community would lose the school.
They said there had been strong arguments to keep the school open because of the distances children had to travel in the rural area.
Powys council's cabinet member for learning and leisure, Myfanwy Alexander, said the decision was taken because "financially the school isn't sustainable".
'Devastated'
She said the council had considered federalising - where a school is run as units at several locations under one head teacher - but even then the cost per pupil would not have been reduced to "anywhere near what we would expect, which is only fair for other pupils in schools in Powys".
Campaigner Derek Beavan said: "I am, and I know the community will be, devastated by the decision to close Beguildy school.
"We've worked very hard, and thought we had a case which was well put across and there was strong argument for retaining the school in our community."
He said the travel times children would face had been ignored.
"Our children will be seriously disadvantaged, they're not going to be able to go to the school of their choice, and these distances are going to undermine their education."
Mr Beavan said some children might now go to school over the border in England and questioned whether federalisation had been explored.