National Library of Wales: Prof Aled Gruffydd Jones is new librarian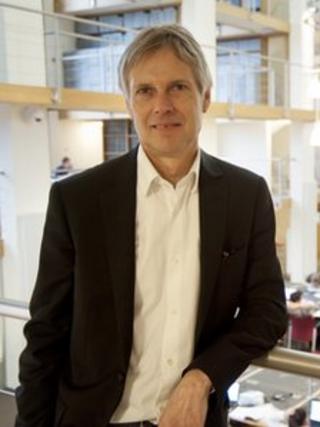 A leading figure at Aberystwyth University has been appointed the new head of the National Library of Wales.
Aled Gruffydd Jones, senior university pro-vice chancellor, was confirmed as the new librarian on Friday.
He replaces Andrew Green who announced his retirement last year after 14 years in the post.
Prof Gruffydd Jones is a cultural historian and head of the university's Welsh department. He is expected to take up his new role later this year.
A native of Llanfrothen in Gwynedd, he was educated at Ysgol Ardudwy, Harlech, and the University of York, where he graduated with first class honours in history.
He joined Aberystwyth University in 1979 and has been a pro vice-chancellor since 2005.
Prof Gruffydd Jones has published widely on the history of modern Wales, labour history, the social and cultural history of journalism and on the relationship between Wales, the British Empire and the Indian sub-continent in the 19th and early 20th centuries.
He has also served as an adviser to the British Library and the Welsh government.
"It's a huge honour to have the opportunity to lead one of our great national institutions, albeit at a very challenging time," Prof Gruffydd Jones said.
"This is a very humbling experience for me.
"I look forward to engaging with our stakeholders and users to see how the library can best serve their needs, now and in the future, and also how we can reach the many individuals and communities with whom we have had very little or even no contact at all with in the past."
'Strong leadership'
The national library's president Sir Deian Hopkin said he was delighted to find an "exceptional candidate" with the range of "qualities and experience to lead the library through the challenges before us".
"Aled Jones has an impeccable record of strong leadership and proven strategic competencies in higher education and has wide practical experience and a deep commitment to the digital information environment," he added.
"He is the ideal person to take the library forward as it strives to provide an exceptional service to the people of Wales."
The national library is a registered charity with an annual budget of around £11m employing about 300 staff.
Prof April McMahon, vice-chancellor of Aberystwyth University, congratulated Prof Gruffydd Jones on his appointment, describing him as a "distinguished academic".
"The university's loss is undoubtedly the national library's gain," she said.