Toad tunnel: Llandrindod Wells road shuts for mating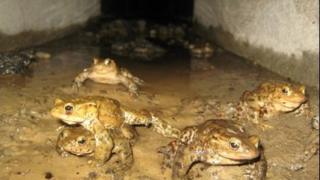 You could call them the Powys toad tunnels of love, but sadly the amorous amphibians have decided to ignore them.
The two special tunnels were built three years ago to help the toads move in safety from woods to their breeding ground at Llandrindod Wells lake.
But Radnorshire Wildlife Trust says they still use the road during mating season, and they risk getting squashed.
Now the road will instead close at night for three weeks to allow the toads to migrate.
Hundreds of toads cross the road every spring on their way from nearby woods to the lake to spawn.
Steep kerbs
For five years before the tunnels were built, the road around the lake used to close at night for about three weeks to help the creatures looking for love.
Volunteers would also carry toads, frogs and newts in buckets because many were unable to climb the kerbs.
Powys council built the tunnels - believed to cost around £16,000 - under the road to the north east of the lake in a bid to help protect the toads from steep kerbs, cars and predators.
A 400m ditch was also constructed along the roadside ditch to help guide the animals underground.
But Julian Jones, director of the wildlife trust, said, despite the best intentions, the tunnels had not worked.
"The problem is there's quite a big road round the lake and for a 300m section, the toads are tumbling out of the woods to try to get to the lake, " he said.
"In some parts of England, the tunnels can work because the toads all come out of an area of about a metre in width.
"Powys council did their best to try to funnel the toads to the tunnels with the ditches, but the toads would just get stuck in there. To be honest, I've never seen a toad in the tunnels."
Declining population
The council said it decided to close the road again because the lake is an important nature reserve and it is committed to protecting the toads.
The toad population has declined steeply in the area since 1980, when it was around 10,000. Now it is estimated to be between 3-4,000.
Mr Jones said the wildlife trust's "toad patrol" of volunteers would once again be out on the road during the breeding season to help the animals and ensure the number does not drop any further.
"I'm pleased to say that over the last few years we have appeared to stop the decline in toad numbers at Llandrindod," he said.
"We only have a few species of toad in Wales so it's really important to look after them.
"When they start disappearing it's a warning bell that something is not right in the environment."
The road around the lake will be closed between Saturday, 16 March and 6 April from 20:00 GMT to 06:00 GMT.