Aberystwyth shops: Compulsory home purchase considered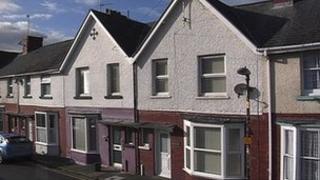 A home standing in the way of a shopping development in Aberystwyth could be compulsorily purchased.
Tesco and Marks and Spencer have signed a deal with developers and Ceredigion council to build in Aberystwyth, and contracts have been exchanged.
It is understood one homeowner in Glyndwr Road is still refusing to sell up.
The council said it would consider shortly the possibility of using compulsory purchase orders (CPOs).
The development would involve building on the council-owned Mill Street car park and the demolition of 12 terraced homes in neighbouring Glyndwr Road, most of which have been sold.
About 280 jobs would be created and the stores could be open by December 2016, which the council claims will boost town centre trade by between £1.6m and £3.5m a year.
The council's cabinet has authorised the use of CPOs to buy the remaining home, but the final decision will be made by the full council.
A council spokesperson said: "Steps will be taken by the county council to update the remaining residents on Glyndwr Road on the contract agreement.
"The council will consider shortly any outstanding land assembly issues and the possibility of using CPO powers."
Confirming that contracts had been exchanged between developers Chelverton Deeley Freed and the retailers, the council said Tesco planned a 25,000 sq ft (2,300 sq m) supermarket while M&S wanted to build a three-storey, 36,000 sq ft (3,300 sq m) store.
The project will also include seven homes and 550 car parking spaces - more than doubling the number of existing spaces. The council said 500 would be free of charge for up to three hours.
Council leader Ellen ap Gwynn said: "This is excellent news for Aberystwyth and for Ceredigion.
"In the current economic climate the commitment shown by Tesco and Marks and Spencer is a big boost to our efforts in bringing about the kind of economic development that will allow Aberystwyth to thrive in the years ahead."
'Advancing negotiations'
A Tesco spokesperson said the firm was delighted to be investing in Aberystwyth and was planning to create 200 jobs.
Simon Morgan, director of Chelverton Deeley Freed Ltd, said: "We will now focus on advancing negotiations with Welsh Water and Scottish Power in respect of the need to relocate drains and cables which cross the Mill Street site.
"Thereafter a series of local community engagement meetings will be organised to enable the details of the scheme to be presented and explained ahead of a planning application being submitted in August."
One homeowner in Glyndwr Road, Enid Jones, vowed last year to stay put.
She said the developers had offered to buy her a home or build her a new one as part of a deal.
In a programme broadcast in November 2011, BBC Wales' Week In Week Out followed Mrs Jones in her attempt to get more details about the plans for her home.
Mrs Jones has been asked to comment about the latest developments.