Bronglais Hospital: Fears over intensive care bed cuts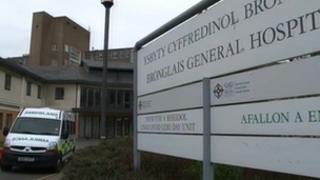 There are fears beds could be lost at an intensive care unit (ICU) and a cancer ward at a mid Wales hospital.
Ceredigion MP Mark Williams said he had received "alarming reports" that up to 16 beds could be cut at Bronglais Hospital in Aberystwyth.
The Lib Dem MP fears ICU beds could drop from five to three forcing patients to travel long distances.
Hywel Dda Health Board said it continually assessed bed levels across its region to meet patient need.
Mr Williams said the balance of hospital services between the north and south of the Hywel Dda region was "unacceptably skewed".
He said Bronglais had seen a "steady decline" in bed numbers over a number of years.
"I have heard alarming reports about the future of beds in the Meurig (cancer) ward and the intensive care unit. I sincerely hope they are untrue," he said.
"Bronglais Hospital has faced huge pressures in the last few weeks which will not be helped by further bed losses.
"If ICU is to lose two beds this means only three ICU beds will remain, compared with 17 ICU beds at Glangwili Hospital (in Carmarthen).
"It raises issues of huge concern about the ways in which resources are being distributed throughout the Hywel Dda board's area.
"Core services should be provided in an adequate scale across Hywel Dda's area but the balance is unacceptably skewed between the north and south of the health board's area."
Mr Williams said patients could be forced to travel to hospitals like Glangwili for treatment, a 50-mile (80km) drive from Aberystwyth, if the beds at Bronglais are lost.
The health board's county director Jeremy Brown said as a responsible NHS provider Hywel Dda continually assessed bed and staffing levels at its hospitals.
"Discussions are currently ongoing following a review at Bronglais which looked at the type of patients we see, the number of nurses required per patient and sustainability," he said.
Intensive care
"As part of this, we are considering the future of our intensive care beds. Currently we have funding for three ICU beds at Bronglais and 'flex' our ability to open two additional beds when required.
"Whilst these two beds have been used sporadically during the past, too often patients in these beds do not require intensive care and we recognise the need to care for them differently elsewhere within the hospital."
Mr Brown said the board was reviewing this situation, as well as its bed provision across the hospital, as part of an annual plan for Ceredigion.
"We are not removing services from Bronglais Hospital but working to ensure resources are in the right place to meet patient need," he added.
Last month bed numbers dropped temporarily at Bronglais as part of a major revamp.
The 15-bed Rheidol ward has been replaced by a 10-bed clinical decision unit as part of a new A&E department. The bed numbers are expected to rise to 14 next year.