New Quay slurry spill: Beaches reopen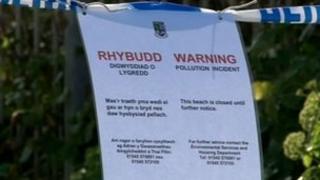 Three beaches at a Ceredigion seaside resort have reopened after 15,000 litres of slurry leaked from a burst tank on a farm.
Traeth y Dolau, Traeth yr Harbwr and Traethgwyn in New Quay were closed on Tuesday afternoon following the leak.
Some slurry made its way into a stream leading to the sea and the beaches were cordoned off as a precaution.
But Natural Resources Wales said the spill would have no long-term effects on the environment.
It said most of the slurry has been contained on the farm and was being put in tankers.
A fire crew and an environmental protection unit from Llanelli were sent to the scene following the alert on Tuesday.
"Our officers are monitoring the situation at New Quay very closely and are continuing to work with the farmer to prevent any further slurry entering the stream and the sea," said a Natural Resources Wales spokesperson.
"Much of the slurry dispersed with the tide overnight, but we'll continue to take water samples daily and share the information with Ceredigion County Council until we are sure that the pollution has cleared and the water quality has recovered."
Ceredigion council said the beaches were closed as a precaution.
Pete Jordan of Natural Resources Wales told BBC Radio Wales on Wednesday that the slurry that entered the sea would dilute and disappear over time.
"This material is mainly farmyard manure," he said.
"It is a natural material and, given the situation down there and the dilution by the sea, it will readily degrade.
"We're not expecting any long-term consequences for the environment, the beaches or the water bathing quality in the area."