Machynlleth: Campaign to rejuvenate 'rundown' town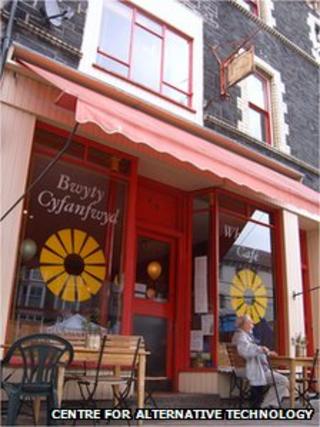 A campaign to rejuvenate the Powys town of Machynlleth is starting as residents join forces to revamp a public garden.
A forum to help regenerate the area has been set up after a number of shop closures and a decision by Tesco to withdraw plans for a store.
It was instigated by chip shop owner David Hennighan, who admits he had a "rant" at the town council.
Residents hope the rose garden at the Plas building will be ready in time for next week's annual comedy festival.
A mountain bike enduro event is also planned in the nearby Dyfi Forest on Sunday, 5 May.
Mr Hennighan said the forum was established after a public meeting last month which 100 people attended.
"The town looks tatty and rundown. I had a rant at the town council about the state of the town and from that the forum was launched," Mr Hennighan said.
"Something positive is now happening and we'd like the town to look better in time for the comedy festival and the bike enduro event next week.
"We need to get Machynlleth back on the map."
Mr Hennighan said the economic downturn had taken its toll and a number of shops had closed in the town in recent months, but some had reopened, or were about to, including the Quarry Cafe.
The latest casualty was a town bakery which shut last week.
Just over a fortnight ago Tesco announced it was dropping plans for a store in the town after failing to reach an agreement over some road changes.
But Mr Hennighan said problems existed in the town before the supermarket giant made its decision.
"The economic downturn has had an effect on the town and there have been other setbacks, but we want Machynlleth to be a thriving market town and tourist destination once more," he added.
The "community clean-up" of the rose garden at the Plas will take place between 12:30 and 15:00 BST on Sunday.
There are plans to target other areas of the town and restore a fountain near the Plas.
Meanwhile, a reusable cotton shopping bag will be launched on Wednesday to help promote the street market.
Machynlleth mayor Gareth Jones said it was part of the "ongoing initiative to reinvigorate Machynlleth and give the town a boost".