Tregaron and Llanddewi-Brefi pupils could move to super-school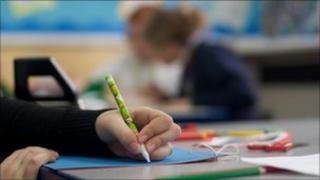 Pupils from two primary schools could move to a new super-school as part of a shake-up of education in Ceredigion.
Tregaron and Llanddewi-Brefi primaries are facing the axe and their pupils could switch to Tregaron Secondary School, which could also lose its sixth form.
The council says pupil costs are too high and it proposes a super-school for three to 16-year-olds in Tregaron.
The plans will be discussed by Ceredigion's cabinet on Thursday.
Officials had proposed building a super-school for pupils aged three to 19 to replace eight schools in the Tregaron area but this was postponed in 2011.
The council has said previously that pupil costs and empty places have forced it to re-examine its education policy and new schools have been built in the county to replace smaller versions.
A council cabinet report said there were "significant shortcomings" in the suitability of the primary schools in Tregaron and Llanddewi-Brefi.
Different options are being considered, including the super-school on the existing secondary school site in Tregaron.
"Further investigation needs to be undertaken in order to identify both viability and its sustainability," said the report.
"The present situation is not sustainable - the cost of the provision is higher than the available funding.
"During 2012-13 the cost of providing post-16 courses at Ysgol Uwchradd Tregaron (secondary school) was much higher that the funding the school received from the Welsh government to provide these courses."
The cabinet is being asked to support in principle the plans for the three schools.
Council officers are also recommending a review of existing secondary school leisure facilities and those in the wider community in Tregaron.
They want councillors to grant permission to proceed with a public consultation.