Enid Jones' Aberystwyth home set for compulsory purchase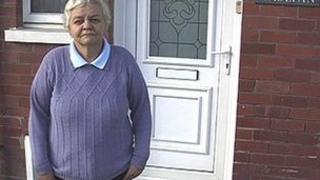 A woman could be forced out of her home to make way for two superstores after councillors backed the use of a compulsory purchase order (CPO).
Ceredigion's full council voted to issue the CPO for Enid Jones's terraced home in Aberystwyth.
Twelve homes in Glyndwr Road face demolition to make way for Tesco and Marks and Spencer stores but Mrs Jones is the only resident refusing to sell.
The final decision will be made by the Welsh government.
Twenty-five Ceredigion councillors voted in favour of the CPO on Thursday with three against and five abstentions.
The shopping development is planned for the council-owned Mill Street car park adjacent to Glyndwr Road in Aberystwyth.
About 280 jobs would be created with both Tesco and M&S hoping to open their shops by December 2016.
The council claims the development will boost town centre trade by between £1.6m and £3.5m a year.
The authority's cabinet recommended the use of a CPO in Glyndwr Road last year but gave officers powers to apply it at a cabinet meeting on Tuesday.
The CPO relates to Ms Jones's home in Glyndwr Road and two pieces of land nearby.
Negotiations
After the meeting, the leader of Ceredigion council Ellen ap Gwynn said: "I fully respect Mrs Enid Jones's stance, but I'm afraid the council has no option in this matter, if we are to develop our economy to secure a viable future for the young people of the county."
Gareth Lloyd, Ceredigion cabinet member responsible for economic development, added: "We had to strike a balance between the needs of one individual and those of the town and the county as a whole."
Earlier this month Mrs Jones, a 57-year-old grandmother, said she was determined to fight on.
"It's a matter of principle. I just don't want to leave my house," she said.
"I'm resigned to the fact that the council will use a compulsory purchase order but I will fight them all the way."
She said last year that the developers had offered to buy her a house or build her a new one if she sold her existing property to them.
Tesco is planning a 25,000 sq ft (2,300 sq m) supermarket on the Mill Street car park site, while M&S wants to build a three-storey, 36,000 sq ft (3,300 sq m) store.
The project will also include seven new homes and 550 car parking spaces, more than double the current number of spaces.