Enid Jones's letters of support over Aberystwyth home threat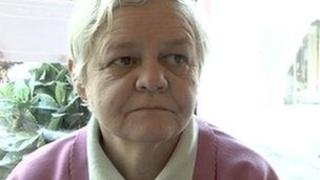 A grandmother who could lose her home to two superstores in Aberystwyth has received letters of support from around the UK, says her sister.
Ceredigion council has voted to issue a compulsory purchase order (CPO) for Enid Jones's terraced home.
Bethan Bebb said the letters sent to her sister had "lifted her spirits".
Twelve homes in Glyndwr Road face demolition to make way for Tesco and Marks and Spencer stores but Mrs Jones is the only resident refusing to sell.
The final decision about whether to demolish the 57-year-old woman's home will be made by the Welsh government.
Mrs Bebb said her sister was "quite distraught" following the council's decision on Thursday and was taking time to reflect before making her next step.
Twenty-five Ceredigion councillors voted in favour of the CPO with three against and five abstentions.
The shopping development is planned for the council-owned Mill Street car park adjacent to Glyndwr Road in Aberystwyth.
About 280 jobs would be created with both Tesco and M&S hoping to open their shops by December 2016.
The council claims the development will boost town centre trade by between £1.6m and £3.5m a year.
"Enid is quite distraught following the decision and is taking time to decide what to do next," said Mrs Bebb.
"I think people are now starting to realise the dramatic consequences of the council's decision."
She said Mrs Jones had received quite a bit of UK-wide media attention recently but was a person who did not like the limelight.
Determined
"But she has received a lot of support from people around the UK," added Mrs Bebb.
"She's had letters urging her to stick with it and people have written about their experiences of compulsory purchase orders. This support has lifted her spirits."
Mrs Bebb said the ordeal had caused a lot of heartache for her sister, who earlier this month vowed to fight on.
Ceredigion council's cabinet recommended the use of a CPO in Glyndwr Road last year but gave officers powers to apply it at a cabinet meeting on Tuesday.
The CPO relates to Ms Jones's home in Glyndwr Road and two pieces of land nearby.
After Thursday's meeting the leader of Ceredigion council Ellen ap Gwynn said: "I fully respect Mrs Enid Jones's stance, but I'm afraid the council has no option in this matter, if we are to develop our economy to secure a viable future for the young people of the county."
Gareth Lloyd, Ceredigion cabinet member responsible for economic development, added: "We had to strike a balance between the needs of one individual and those of the town and the county as a whole."