Cannes festival: Small Powys firm's big goggles promotion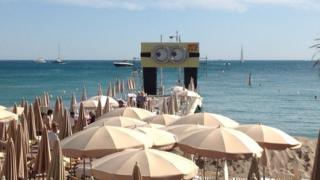 A large set of goggles built by a small Powys firm has taken pride of place on a beach at the Cannes film festival.
Big Beasts was hired by Universal Pictures to make the fibre glass model to promote the animated comedy Despicable Me 2.
The 20ft (6m) wide goggles were made at the company's workshop near Welshpool.
They were driven to the French Riviera on the back of a trailer by company director Tony Ward. The award of the contract was described as a big honour.
Big Beasts employs four staff in the village of Leighton and builds bespoke models for film and television, museums and heritage and theme parks.
Last November, Universal Pictures asked the company to build 10ft (3m) high Minions, characters featured in Despicable Me 2, to promote the movie in cinemas across the UK.
Then last month the order for the goggles came in.
"For such a small company in the middle of Wales to be approached by a major picture company for something like this is a massive honour," said Big Beasts design engineer Matt Jones.
The 80kg goggles were placed on a billboard on a pier outside the Carlton hotel in Cannes on 10 May.
"It was one of the first things installed to promote films for this year's festival so it grabbed a lot of attention and people stopped to have their photos taken next to the goggles," added Mr Jones.
He said until now Big Beasts had mainly worked in the UK.
The goggles are the firm's latest quirky project. In the past it has made a big red shoe for My Last Five Girlfriends which starred Naomie Harris, who played Eve Moneypenny in the latest Bond movie Skyfall.
It also worked on the film Age of Stupid, starring Pete Postlethwaite, making an Easter Island statue replica.