Llanwrtyd Wells stages bicycle-towed chariot racing and stone skimming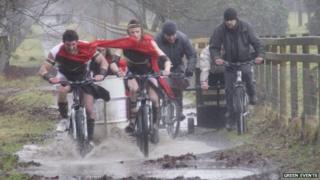 A town behind a string of peculiar sports hosted two more on Sunday - bicycle-towed chariot racing and stone-skimming championships.
Llanwrtyd Wells in Powys has been staging unusual sports since 1980 in a bid to boost the local economy.
The world chariot racing and Welsh open stone-skimming championships are two of about 15 events held annually.
The town is probably better known for hosting the World Bog Snorkelling Championships and Man versus Horse.
Green Events, the firm behind all the wacky sports in Llanwrtyd Wells, said beforehand it was expecting up to 50 stone skimmers and between 10 and 15 chariot racing teams, which consist of three people per team.
The chariots are pulled along a muddy track by two mountain bikes, with the four fastest teams from a series of heats battling it out in a grand final.
"The chariot racing has been going for a few years," said Green Events chair Lindsay Ketteringham.
"It was supposed to have been held in January but the track was unfit for chariots, so we decided to hold it on Sunday with the stone-skimming championships."
Mr Ketteringham said it was the second year of the Welsh Open Stone-Skimming Championships and between 30 and 50 competitors are expected to take part.
Among them will be current world champion Ron Long, from Welshpool, who skimmed a stone 90 metres to win the inaugural Welsh open last year.
"There used to be a Welsh open a few years ago in Pembroke but it stopped. The competitors approached us because they knew of our reputation of staging events and asked if we'd like to take it on," Mr Ketteringham said.
Wife carrying
"Competitors stand on a jetty out into a lake and there is a throwing lane with marker buoys to judge the distance."
Last year Green Events staged its own version of the London Olympics - the World Alternative Games.
People competed for gold, silver and bronze medals and events included an array of unrecognised sports such as wife carrying, worm charming and space hopper racing.
Unlike the Olympics which take place every four years, the World Alternative Games are set to be biennial.