Jewish Aberystwyth University holiday blocked over lit candles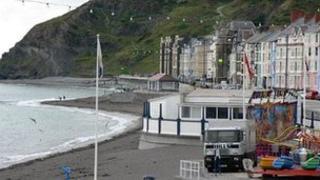 Hundreds of Orthodox Jews who visit Aberystwyth on holiday every year will now go elsewhere after the university banned them from lighting candles in their student village accommodation.
The community has been visiting the town for more than 20 years, renting about 120 houses at Pentre Jane Morgan.
But Aberystwyth University said it was refusing to allow candles in the houses on health and safety grounds.
The holiday organisers said lighting candles was part of their religion.
The Jewish families have traditionally visited the Ceredigion town every year for two weeks in July or August.
But last year they were told they would only be allowed to stay at Pentre Jane Morgan in 2013 if they agreed not to light candles.
The university said its decision was based purely on health and safety grounds.
"The use of candles/naked flames in all university residences is prohibited," the university said in a statement.
"This is clearly set out in the terms and conditions which visiting groups are required to sign and abide by during their stay.
"Unfortunately, last year there was more than one incident involving lit candles with this visiting group.
"During negotiations regarding a proposed visit this year the university was asked to remove the parts of the terms and conditions which referred to flames being lit in accommodation and a suggestion was made by the group that covered flames might be more acceptable to the university.
"In reaching its decision not to allow candles to be lit in rooms the university has taken legal and health and safety advice and been in dialogue with the fire service. It has also undertaken its own risk assessment based on the local context and previous incidents."
The university said it would be delighted to welcome the group back as long as it was able to sign its terms and conditions.
'Ready to be safe'
A spokeswoman for the organisers of the Jewish group visiting Aberystwyth said they would be holidaying outside Wales this summer.
"We're very upset. We like Aberystwyth," she said.
"We have found another place to stay this year, but it's not as nice as Aberystwyth.
"Lighting candles on a Friday evening is part of our religion and being asked not to light them is like asking us not to breathe.
"We are ready to be safe - it's in our interests to be safe."
Last August the community was hit by a tragedy when Rabbi Dov Berish Englander, 47, of Stamford Hill, north London, drowned in the sea off Aberystwyth while on holiday in the town.
An inquest in November recorded a verdict of accidental death.