April Jones: Memorial service 'sooner rather than later'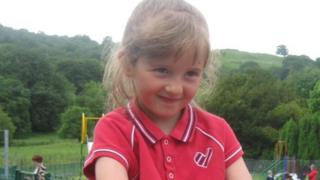 A memorial service for April Jones is expected to be held in her mid Wales hometown now that her killer has been sentenced to life in prison.
The service for the five-year-old is expected to take place in Machynllenth "sooner rather than later", according to the local vicar.
Mark Bridger, 47, of Ceinws, was last week jailed for life for the murder and abduction of April last October.
Her body has never been found despite the biggest search in the UK.
April was abducted as she played with friends near her home on the Bryn-y-Gog estate.
The Reverend Kathleen Rogers, vicar of St Peter's Church, told the Daily Post newspaper that a service will now take place there in memory of April.
She said: "We don't know when but it will be sooner rather than later."
It is also understood that April's Fund which was set up after she disappeared will be wound up in September.
The money is set to be distributed to benefit local children, charities and search and rescue volunteers.
More than £70,000 has so far been collected.
Nine trustees, chaired by Ms Rogers, administer the fund.
Fundraising activities for the fund included a charity auction in Machynlleth in November which raised more than £4,000 boosted by donations of shoes from actress Catherine Zeta Jones and a diamante-studded denim jacket from singer Bonnie Tyler.
Many of the pink ribbons which festooned the town as a symbol of hope for April during the seven-month search still remain.
A 'hugging tree' covered in a series of pink knitted squares has also been created outside Machynlleth.
The idea is for people to go and reflect there and also leave messages for April.