Aberystwyth nurse June Parry faces tribunal hearing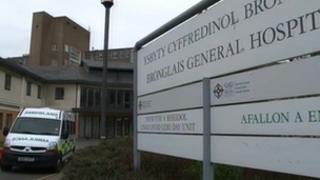 A nurse allegedly treated a patient in a "rough and aggressive manner", a tribunal panel has been told.
June Parry disputes allegations about her treatment of patients and colleagues over a five-year period when she worked at Aberystwyth's Bronglais Hospital and at a care home.
She did not turn up for the start of the hearing by a panel from the Nursing and Midwifery Council in Cardiff.
The panel has decided to continue with the case in her absence.
It is alleged she was involved in five separate cases of misconduct when she was employed by Hywel Dda NHS Trust on the Ystwyth ward of Bronglais Hospital in Aberystwyth between 2005 and 2007.
Buzzer
There are another 12 allegations relating to the time Ms Parry worked at the specialist Hafan y Waun dementia care home in the town between 2009 and 2010.
On Monday she was due to face a fitness to practise hearing in Cardiff.
The allegations involve patients and other members of staff, and range from handling a patient in a "rough and aggressive manner" to acting in an intimidating manner towards colleagues.
It is also alleged that she said to one patient in the care home that "if you ring that buzzer again I'll slap you" and that she forced another patient to shower against her will.
It is claimed Ms Parry also said to colleagues she was so fed up with patients ringing their bells that she would wrap the cord round their necks or put a pillow over their heads.
It is alleged she said of one patient on Bronglais Hospital's Ystwyth ward: "He should hurry up and die, and do us all a favour."
There are also alleged breaches of medical protocol.
It is claimed controlled drugs were not administered properly, and gloves were not changed between treating different patients.
There is also an allegation that Ms Parry filled out medical charts indicating procedures had been carried out when they had not.
She is also accused of refusing to change residents' incontinence pads and moved patients in and out of beds using a drag lift method without the aid of another member of staff, set out as the correct and safe procedure.
The Nursing and Midwifery Council hearing, which is being held at a Cardiff hotel, is scheduled to last around two weeks with 13 witnesses due to be called.
If the allegations are proved then Ms Parry faces being struck off and unable to work as a nurse.
Ms Parry is disputing the allegations and her defence will be made in written submissions to the hearing.