National Library of Wales identifies fire-damaged archives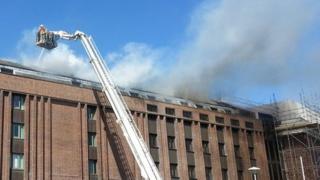 The National Library of Wales has identified some of the items damaged or destroyed in a fire caused accidentally by workers using a blowtorch.
Archive material which was smoke or water damaged beyond repair included papers relating to Welsh football and the Wales Green Party.
Three boxes of 19th Century chapel records from Carmarthen had already been identified as destroyed.
The cost of repairs to the Aberystwyth library is expected to be up to £5m.
Some 140 crates of material were badly damaged by water and smoke.
It is among these crates that items beyond recovery have been identified.
The fire, which gutted a section of the library's roof, broke out on 26 April, a Friday afternoon.
Director of collections services Avril Jones said: "It was a normal working day, and items were being processed on desks and trolleys on the top floor."It is for this reason that there were, sadly, some losses.
"To put it in context, however, 120 similar crates of books alone arrive at the library every week, as well as consignments of other materials.
"This underlines the degree to which the damage, however serious, was contained.
"We are all extremely saddened to learn that some items were lost, and we share the great disappointment of the owners of those items."
She said the owners of the items had each been contacted.
The fire broke out in library's six-storey "third building," where collection materials were being processed on four floors.
Manuscripts and rare books were kept on the top floor, which suffered some serious fire damage, but these materials were kept in oak chests and survived without any damage.
The library said once its staff were allowed back into the building they removed photographs, manuscripts, archival material, maps and books that had suffered a small degree of water damage.
These items were restored by the following week, it said.
The 140 crates of material have been moved to the library's Oxford-based team of salvage experts.
The library's own conservation unit has taken delivery of archival collections, working papers and cataloguing material whose damaged is considered serious.
These items are expected to be identified after the summer once the conservation team have worked on them.
Last week the minister of Tabernacle Baptist Chapel in Carmarthen said three boxes of records dating back to the 19th Century had been burnt.
The history of the Baptists in Carmarthen dates back to 1650, when a branch of Ilston chapel in Gower was founded there.