April Jones's sister's skydive for search and rescue team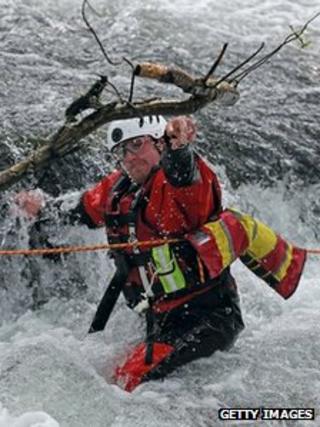 The teenage sister of April Jones is to do a skydive to thank a volunteer rescue team who risked their lives searching for the five-year-old.
April's disappearance from Machynlleth in October prompted one of the biggest search missions in UK police history.
Her half-sister says she wants to raise money for the Western Beacons Mountain Search and Rescue Team, who she said "showed amazing courage".
Mark Bridger is serving a whole life sentence for abduction and murder.
After April went missing from the Bryn-y-Gog estate on 1 October last year, 17 search teams scoured 60 sq km of countryside around the Powys town.
Police and specialist search teams searched 650 areas ranging from winding rivers, mountainous valleys and deep mine shafts.
Among those fighting against the rainy autumnal elements to find April was the Western Beacons Mountain Search and Rescue Team.
But despite 28 weeks and four days of painstaking searching, April's body was never found.
Now, April's half-sister Hazel Louise Jones said the rescuers' bravery had inspired her to take part in a charity skydive on Saturday.
She announced her plans via the JustGiving website, writing: "I will be doing a charity skydive for Western Beacons Mountain Search and Rescue Team because they showed amazing courage and dedication to the search of my little sister when she went missing.
"They battled all types of terrain and horrendous weather conditions and although she was never found, they, like Paul, Coral [April's parents] and so many other people never gave up hope."
The search and rescue team - an independently funded group - can be called upon to help specialist police teams in mountainous, remote and rough terrain.
A spokesman said its operational costs were between £10,000 and £15,000 per year.
"Team members pay for their own equipment and training exercises and their own personal costs to travel to incidents," he said.
"The Welsh government grant £6,600 annually but this is shared between all the Mountain Rescue Teams in Wales (some 17 teams) and the police cover team members for personal life insurance, whilst on training and exercise."
More than 100 people have donated to the cause since Miss Jones launched her fundraising appeal at the weekend.
April was playing near her home with her friend when she was snatched by paedophile Bridger.
Last week, the 47-year-old was found guilty at Mold Crown Court of abducting and murdering April.
The former abattoir worker was given a whole-life tariff prison sentence, meaning he will die behind bars.