Rescue team's vehicle to be named after April Jones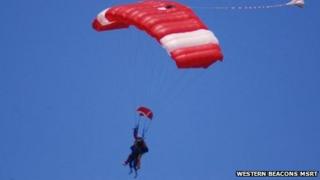 A rescue team's new vehicle is be named after the murdered five-year-old April Jones after her sister skydived to help raise money for it.
Hazel Jones, 19, wanted to raise money for the Western Beacons Mountain Search and Rescue Team, who helped search for April after she was abducted in Powys.
The planned new control vehicle will be given the call sign Bravo April.
Her disappearance from Machynlleth in October prompted one of the biggest search missions in UK police history.
Hazel Jones's tandem skydive from 13,000ft (4,000m) took place at Swansea Airport on Saturday.
The Western Beacons Mountain Team said: "In six days the total amount of money pledged has risen from a few hundred pounds to over £5,000.
"It is an incredible feat and there is the potential for further good news as several companies have promised to match the total raised with a donation of their own.
"If they are as good as their word, Hazel Jones will raise in excess of £30,000 which is a staggering sum and added to the money the team have managed to collect over the past 18 months with their own fundraising, will mean that we can finally place the order for a new control vehicle.
"The call sign for the vehicle being replaced, Bravo Tango, will be retired and in honour of April and with her family's blessing, the team have decided that the new vehicle will have the call sign Bravo April.
Announcing her plans for the skydive via the JustGiving website, Hazel Jones paid tribute to the mountain rescue team for their "amazing courage and dedication to the search of my little sister April Jones when she went missing".
Mark Bridger, 47, from Ceinws, near Machynlleth, was sentenced to life in prison in May after being found guilty of murdering and abducting April.