Shed of the Year: Alex Holland's boat entry in final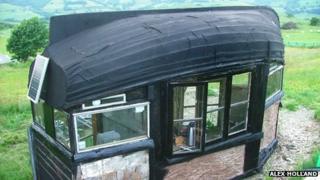 A shed with an upturned boat for a roof in the mid Wales countryside is in the final of the Shed of the Year contest.
It has been built by Alex Holland using items recycled from his 400-year-old Powys farmhouse and a 1940s caravan.
He says the Machynlleth shed is full of "nautical nonsense befitting a boat turned upside down" in the Cambrian Mountains.
The vessel is a former inshore clinker which fished around Cardigan Bay in the early 1900s.
Mr Holland, who acquired the boat from his work at a boatyard, said he built the shed out of a need for more space.
He admitted he was surprised to win the Boat Roofed Shed category in Best Unique Shed section of the annual competition as he has never built one before.
The shed is built entirely from recycled materials, with the roof made from a clinker, which is a method of shipbuilding where wooden planks are attached to a hull so that they overlap each other. It is 14ft (4.2m) long and 7ft (2.1m) at its widest point.
It is solar powered with a gas cooker, fridge, sink and sound system used for parties and he charted the development of his project on Facebook.
It was placed on a frame of four telegraph poles with cross beams and the walls are from aluminium-framed windows from a 1940s caravan and single glazed windows from his farmhouse.
Other walls are made of wattle and daub, a mixture of mud, clay, and straw stuck onto a woven frame. The rear of the shed is clad in old corrugated metal sheet painted in black bitumen.
"It is also an ideal place for me to sit while our three dogs run around our field exercising themselves," he said.
Mr Holland's efforts have won him a place in the 2013 Shed of the Year final which includes a replica Tardis and a cider bar as well as another with a nautical theme, a boat-shaped den complete with a top deck.
The overall winner will be announced next month but Mr Holland said he was happy enough to have been judged the owner of the most unique shed.