Royal Welsh Show: Charles and Camilla to visit event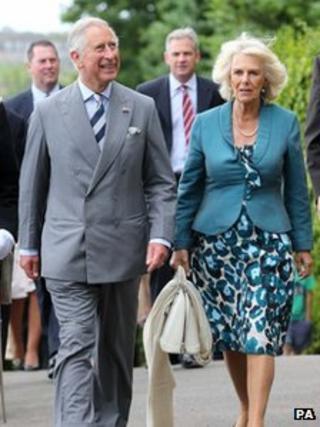 The Prince of Wales and the Duchess of Cornwall will attend the Royal Welsh Show in Powys later this month, it has been announced.
It will be the prince's seventh visit to Llanelwedd, near Builth Wells, where the agricultural showpiece is held, but for the duchess it will be her first.
The royal couple will attend the show's third day on 24 July.
The prince is a former president of the Royal Welsh Agricultural Society (RWAS) which runs the event.
"The society is delighted to announce the royal visit and we are honoured that both the Prince of Wales and the Duchess of Cornwall are to join us this year," said RWAS chief executive Steve Hughson.
"The prince is a great supporter of agriculture and has led many projects such as the Cambrian Mountains Initiative which shows a great deal of understanding of the issues affecting rural communities.
"We are putting together a packed itinerary and hope that many people at the show will have an opportunity to see the royal couple."
The RWAS said the Prince of Wales had been stalwart supporter and he knew many of the farmers who exhibited at Llanelwedd.
He was first seen at the show in 1969 and made return visits in 1988, 1995, 1999, 2000 and 2001, when he opened the society's Winter Fair.
The show's royal connections go back to 1907 when, three years after the foundation of the society, the then Prince of Wales - the future King George V - became patron.
The royal family have regularly supported the show throughout the society's history.
In 1966, three years after it settled on a permanent site in Llanelwedd, the late Princess Margaret became the first royal visitor to the new showground.