Aberystwyth University admits Welsh sign spelling errors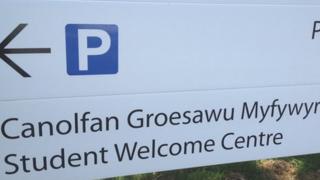 A university has admitted that a number of new signs around its campus have been misspelt in Welsh.
Aberystwyth University said six of the 125 new signs had spelling errors and another had been incorrectly translated on its Penglais campus.
The Welsh word for "students" is "myfyrwyr" but was spelt incorrectly on a sign as "myfywyr".
A university spokesman said a number of the misspelt signs had already been corrected.
He added: "The university is taking steps to correct the remaining errors as soon as possible and has removed these signs until they are correct.
"Arrangements are also being made to add the Welsh for 'postcode' to the signs as soon as practicable."