Smoking ban for Ceredigion council playgrounds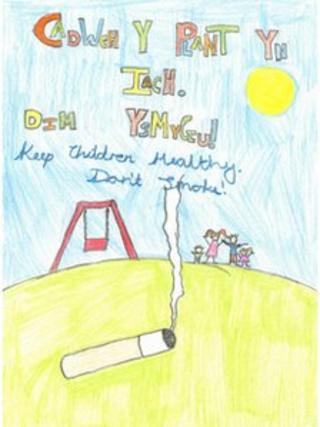 Smokers are to be banned from lighting up in playgrounds in Ceredigion later this year under council plans to protect children.
Signs designed by a school pupil will be erected in play areas across the county warning people not to smoke.
Caerphilly was the first of Wales' 22 councils to take similar action, with Powys and Gwynedd following.
Ceredigion council said it would announce when the ban would start at a later date.
It follows a survey for campaigning group Ash Wales which revealed 77% of Welsh adults now believe that smoking should be banned in areas where children play.
Health dangers
Chairman of Ceredigion council John Adams-Lewis said: "It is hugely important for children to be able to enjoy fresh air whilst playing in Ceredigion's play areas which is why this scheme is so important, ensuring that children are protected from the health dangers relating to inhaling second hand cigarette smoke."
Primary school pupils in Ceredigion were asked to design smoke-free play area posters which will be displayed at all playgrounds there.
The winning design came from 10-year-old Eileen Brendler-Spaeth from Comins Coch Primary School, near Aberystwyth.
In June, Swansea, Neath Port Talbot and Bridgend councils also launched a campaign urging smokers not to light up around children's park playgrounds, taking the number of authorities which have launched similar campaigns to six.