Lifeguards save Sammy the seagull at Tresaith beach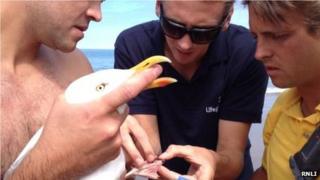 A seagull in distress on a beach near Cardigan has been saved with the help of lifeguards.
The bird, nicknamed Sammy, was seen on Tresaith beach on Saturday with a hook in its leg after it was caught in fishing wire.
Efforts to capture the seagull by throwing a towel over it failed.
But a friend of the lifeguards dived into the sea to reach Sammy before they removed the wire and hook and released him.
Vinny Vincent, the RNLI's seasonal lifeguard supervisor for west Wales who was on duty at Tresaith on Saturday, said: "This was not our normal sort of rescue on the beach here.
"We are used to dealing with sun seekers' medical problems or helping swimmers in the water, and on this occasion we put our training to a different use when we helped Sammy."
"It seemed to fly off quite happily," he added.
"It was a busy day with a sailing regatta going on but we made sure we found time for Sammy, much to everyone's delight."