Montgomeryshire A&E fears over Shropshire hospital review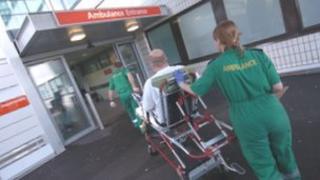 A review of A&E care across the English border should include consultation with mid Wales residents, says Montgomeryshire MP Glyn Davies.
His comments come as Shrewsbury and Telford Hospital NHS Trust bosses said "serious decision-making" was needed on the future of its two A&E services.
Over 40 people attended a meeting in Newtown last night worried they may have to travel further if services are cut at their local Shrewsbury hospital.
The trust said it would consult people.
Powys has no district general hospital but is served by Royal Shrewsbury Hospital and Princess Royal Hospital in Telford among others.
No firm plans have been drawn up yet but there are fears Welsh residents could be adversely affected if services are moved.
Mr Davies has already held meetings with senior managers to voice his concerns although wider health service shake-up plans have been under discussion for some years.
"I want the best access possible for patients from Montgomeryshire. And I want them to be an integral part of the discussions," said Mr Davies.
Residents at Thursday's meeting at Elephant and Castle hotel raised concerns that a trial which has seen urgent stroke care temporarily moved 15 miles (24km) away to Telford could become permanent.
'Not acceptable'
They are also concerned the review of A&E services may lead to a similar changes
Newtown county councillor Joy Jones said it was a further 20 minute drive to Telford on a good day.
"This is not acceptable," she said. "We want our voice heard.
"We want services close to us so we need Shrewsbury to stay the main hospital."
A statement issued by the hospital trust previously has confirmed that both A&E services are considered important.
And a spokesman said that residents in Welsh communities affected by any future plans would be involved in any consultation.
The trust's medical director Edwin Borman told BBC Radio Shropshire "we need to have a countywide debate... we need to have serious decision-making" about the future of accident and emergency care in the county.
Shrewsbury and Telford both have A&E departments but the trust is concerned resources are spread too thinly to sustain both of them.
Mr Borman said that a trial to move urgent stroke care to Telford had resulted in patients getting the most important parts of their treatment more quickly.