Buttington level crossing van man's £1,000 fine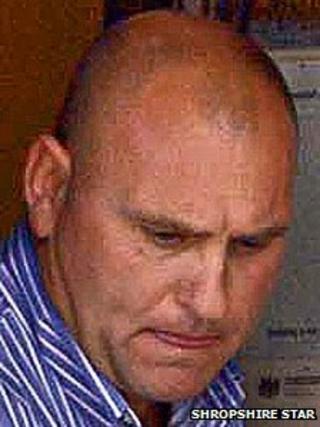 A van driver who stopped on a level crossing and forced a train to make an emergency stop has been fined £1,000.
George Calladine drove on to the unmanned crossing in the village of Buttington, near Welshpool, Powys.
Welshpool magistrates heard Calladine, 40, of Nottinghamshire, drove off with only seconds to spare when the train approached around a bend at 70mph.
Calladine, who admitted endangering safety on a railway, must also pay a £100 victim surcharge and £85 costs.
The Shropshire Star reported David Peate, the chairman of the magistrates, told Calladine he had done a "very, very, very stupid thing".
Mr Peate told Calladine that his wife and children "could have been left without a breadwinner" and the effect on the train driver "must have been considerable".
Calladine, a mattress salesman from Newark, was visiting a customer and had not encountered a similar crossing before the incident on 27 March.
His defence solicitor said that the defendant should have paid more attention, and he had been "neglectful" but it was not "wilfully dangerous".
The court heard the train driver spotted Calladine's vehicle when he was just 200 yards (180m) from the level crossing.
In an unrelated incident three-and-a-half months later, a Birmingham to Aberystwyth train with more than 100 passengers hit a tractor on the same level crossing.
Two people were taken to hospital with minor injuries after the crash on 16 July, and a 27-year-old man was arrested by British Transport Police on suspicion of endangering safety and was released on police bail, pending further inquiries, until September.
British Transport Police's sector inspector for north Wales, Dai Davies, said: "Although Calladine made a full and frank admission, this was an extremely foolish act, the severity of which is reflected in the magistrate's comments.
"Thankfully, he managed to drive off the track a second or two before the train went through, otherwise we could easily have been faced with a different scenario.
"Level crossings are commonplace on our roads and are there to keep people safe. When used correctly, that is exactly what they do.
"Taking a chance at a crossing can have dire consequences. Stop, think and be sensible, because one moment of impatience could result in lives being destroyed."