Brecon Beacons dark sky reserve status boost to tourism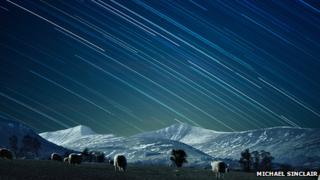 Six months after joining the exclusive club of international dark sky reserves, Brecon Beacons National Park says it is attracting more visitors.
The park has been certified as free of light pollution and an ideal site for star-gazing.
Official figures for the park's economic performance will be available in December.
But businesses say trade has been brisk with many new visitors asking about the status.
The beacons were given the international dark sky reserve status in February, joining a club which has just five members - Mont Megantic in Quebec, Exmoor National Park in south west England, Aoraki Mackenzie in New Zealand, and NambiRand Nature Reserve in Namibia.
It has sparked new business opportunities, with the Y Neuadd Country House Bed and Breakfast launching an astronomy section on its website, and The Star Inn at Talybont-on-Usk staying open late to host "star parties" during the recent series of meteor showers.
But June Scarborough, who runs self-catering cottages at Carno Farm near Pen y Fan, has gone one step further by creating an observatory for her visitors.
"It's in the very early stages, it's still quite a temporary structure, and it's taking us a while to get to grips with the telescopes. But yes, I'm pleased to say it's up and running.
"At first it was something which interested people who were visiting anyway, but gradually we're seeing a few coming especially because of the dark sky status and our viewing platform.
"The summers are usually good for trade, but we're hoping that once the nights draw in and families can view together earlier in the evening, then we're going to see our season extended through the October half term and, fingers crossed, maybe even to Christmas and New Year."
The status means the night sky is protected and lighting controls are in place to prevent light pollution.
However, the Brecon Beacons National Park Authority said it already possessed some of the UK's darkest skies, with the Milky Way, as well as numerous constellations, bright nebulas and even meteor showers visible on a clear night.
The park said in a statement: "Since the Brecon Beacons National Park was granted International Dark Skies Reserve Status in February 2013 there has been considerable interest in it, particularly from the tourism businesses in the national park."
The authority has organised a two-day dark skies ambassador course, building on the original three-day ambassador training courses it offers.
It also has pages on stargazing on its website to find the very darkest skies in the reserve.