£126,000 skate park opens in Knighton in Powys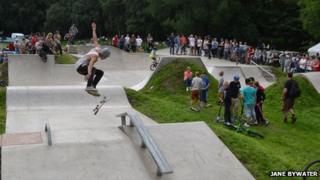 A £126,000 state-of-the-art skate park has finally opened at Knighton in Powys, after years of campaigning.
The skate park was opened near the Offa's Dyke Centre in the town with an open day on Saturday.
Lynsey Price, from the Knighton Phoenix charity, which was set up in 2011 to fundraise for the park, said they were delighted.
She said the town had lacked facilities for local youngsters.
Nearly £117,000 of the skate park's costs was funded by money from the Big Lottery with the rest raised locally by community groups.
"Young people have a right to access play and recreational facilities and Knighton has lacked adequate provision for too long," said Ms Price.
"Our children deserve a space to be together to socialise, engage and practice their interests.
"It is sad that as residents we have to go to such lengths to ensure we get what our young people need, but this project has shown what can be achieved."
The park has been designed to cater for BMX riders, scooters and inline skaters and will have open seven days a week during daylight hours.
It will be managed and maintained by a group under the umbrella of the charity.