New lifeboat for Borth RNLI follows bequest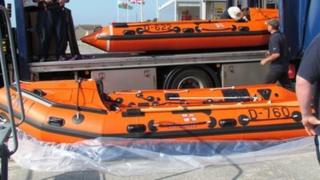 A lifeboat station has received a new rescue boat after an admirer of the RNLI left it £80,000 in his will.
The D-Class inshore lifeboat, named D-760 Geoffrey Scott after its benefactor, is in service in Borth, near Aberystwyth.
Mr Scott, from the Cheltenham area, was said to have admired the RNLI's crews.
The boat is expected to be officially dedicated at a ceremony in the Ceredigion village next year.
Borth lifeboat station manager Ronald Davies said: "Mr Scott's £80,000 has paid for the new boat, at a cost of £40,000, and its maintenance costs for the next 10 years.
"Mr Scott was not a seafaring man but he admired the selfless dedication of the lifeboat crews and made this bequest as a result.
"His legacy is very much appreciated. We provide an invaluable service."
Borth lifeboat station has 25 call-outs a year on average and the new boat has already been in action four times.
"We were to hold the boat's service of dedication next month but Mr Scott's family were unable to attend so we are planning to hold it early next year," said Mr Davies.
D-760 Geoffrey Scott replaces May II which was nine years old.
There has been an RNLI lifeboat station in Borth since 1966 and it has 16 crew members.