Plans to scrap 12 bus routes in Powys are thrown out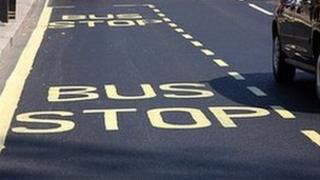 Plans to scrap 12 bus routes in one of the most rural parts of Wales have been rejected by councillors who decided they were unfair.
Powys council leaders had admitted passengers would be hit and expected to get "very negative feedback" if their proposals went through.
The council is facing a £30m funding shortfall over three years and aimed to save £500,000 by reducing the routes.
It said it would see if other public transport cuts could be made.
The plans had involved a 40% cut to the authority's routes throughout the county.
Services between Llanfair Caereinion and Newtown and in Machynlleth were at risk.
'Fundamental review'
Conservative AM for Montgomeryshire Russell George had warned councillors to think carefully about cutting back on public transport in one of the most rural parts of Wales.
Powys cabinet member for transport Barry Thomas said: "Publicly supported transport provision across the county must be fair and equitable even if that service is provided with vastly reduced resources.
"We have considered a number of options to meet budget reductions and concluded that although capable of delivering the necessary savings the impact on service delivery is not equitable and impacts rural communities.
"We have asked for a fundamental review examining all integrated public service transport provision to see if other options are available to us.
"By delaying the decision we can widen the scope of the review and identify saving of up to 20%, meeting our current target and future reductions needed as a result of the comprehensive spending review.
"We believe if we adopt a positive commissioning approach to the issue we will be able to come up with more acceptable options."
'Fair and equitable'
Mr Thomas said they would consult with communities once new options for public transport had been drawn up.
"But we have to be clear with our communities. We cannot reduce our spending to meet budget reduction from Welsh government without impact," he added.
"Cuts of the size demanded will mean less service across the county but the service that remains must be fair and equitable."
The council revealed in January it was facing a £30m reduction in its base budget over the next three years after receiving the lowest funding increase in Wales.
The Welsh government said at the time the settlements for councils in Wales was "better than they expected".
Powys councillors approved plans in March to cut dozens of jobs as it bids to balance its budget. It hopes the job losses will deliver £4m in savings.
Earlier in September, a bus service in rural Denbighshire was scrapped and passengers were encouraged to use subsidised taxis instead after it worked out cheaper for the council.