GPs end 25-year English Channel swim wait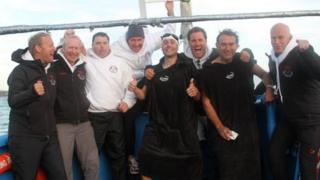 A team of heart specialists has swum the English Channel - ending a 25-year wait for the GP who organised it.
The eight medics - seven professors and a pharmacist - from across Wales took 13 hours to cross to raise funds for the Heart Research Fund for Wales.
Three of them including GP James Wrench from Builth Wells, Powys, tried in 1988 but were beaten by fog and a hurricane.
Dr Wrench said: "We have been burning with the desire to do this for 25 years. It was a pilgrimage."
The GP was joined by cardiologists Prof Julian Halcox and Dr Phillip Freeman and neurologist Dr Robin Corkill, all from the University Hospital of Wales, Cardiff; Prof Marc Clement and Prof Mark Rees from Swansea University's College of Medicine, Ysbyty Gwynedd microbiology consultant Dr Stuart Darcy and pharmacist Jon David from Pembroke.
Drs Wrench, Corkill and Darcy had attempted the channel swim when they were student doctors but failed to make it despite trying over two days.
On the first day, they were forced to stop due to thick fog in the Channel.
On the second day, they had to stop three miles short of the French coast when Hurricane Gilbert made the sea too rough to continue.
This time Dr Wrench estimated the group swam around 40 miles through the water to make the 21-mile crossing in swells of up to 30 feet.
He said: "It was not as cold as our training swims had been in west Wales, but it was much rougher.
"Most of the team were sea sick throughout."
Gannet attack
The team swam in a strict rota of two hours in the water and one hour in the boat.
Dr Wrench said his worst moment came when a gannet kept attacking him as he swam.
Before they set off, the medics stopped at Canterbury Cathedral for some "spiritual help" as they were concerned following the death of a previous swimmer who had been stung by jellyfish.
He said: "We were all terrified of the risks of jellyfish.
"As doctors we all tend to worry about our health more than the average person in the street because we know what can go wrong."
The eight, aged between 39 and 59, had their fitness measured at the University of Glamorgan's Neurovascular Research Laboratory.
They say they were prompted by the fact that Wales has a 15% higher death rate from heart disease than England.
The team members have set themselves a target of collecting £100,000.
The money raised will go towards a project aimed at reducing deaths in younger people in the deprived parts of Merthyr Tydfil, Port Talbot and the Llyn Peninsula in Gwynedd.