April Jones's grandmother welcomes move to block abuse images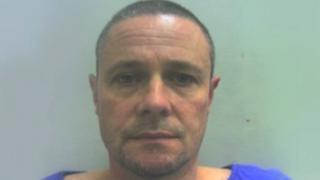 The grandmother of murdered April Jones has welcomed a move by leading search engine companies to make it harder to find child abuse images online.
Five-year-old April, from Machynlleth, Powys, was killed by Mark Bridger in October last year after he had viewed child sex abuse images on his computer.
Lyn Smith told BBC Radio 5 Live the action taken by Google and Microsoft was a "good thing".
But she feared they would be unable to rid the internet of the images totally.
As many as 100,000 search terms will now return no results that find illegal material, and will trigger warnings that child abuse imagery is illegal
Prime Minister David Cameron has welcomed the move but said it must be delivered or he would bring forward new legislation.
But child protection experts have warned most images are on hidden networks.
The issue of online images showing the sexual abuse of children has made headlines in recent months after the convictions of Stuart Hazell and Mark Bridger for the murders of Tia Sharp and April Jones.
Both Hazell, who was jailed for a minimum of 38 years for Tia's murder, and Bridger were known to have sought out and viewed child abuse images online.
Bridger was sentenced to life for April's murder. Her body has never been found despite extensive searches by police.
Speaking to presenter Tony Livesey on BBC Radio Five Live, Mrs Smith welcomed Mr Cameron's involvement.
"I think it's a good thing that something eventually is being done," she said.
"I don't know if it's enough but it's a start. I'm glad David Cameron has got involved in this.
"It shouldn't be allowed at all on any of the search engines anywhere. I just don't think you'll ever really get rid of any of it ever, totally, but it's a start."
Mrs Smith was asked how her family was coping more than a year on after April's murder.
Illegal images
"We're getting there slowly," she said.
"It's been difficult, obviously, but we have to cope. We'll never forget the memory of April but we do have to move on to a certain degree because there are other children involved. We have to be there for them.
"Coral and Paul are obviously working to get April's law going which is all part of this Google internet thing, I believe."
In July, Mr Cameron called on Google and Microsoft's Bing - which together account for 95% of search traffic - to do more to prevent people getting access to illegal images.
He said they needed to ensure that searches which were unambiguously aimed at finding illegal images should return no results.