Rare Greenland white-front geese arrive in Wales over a month late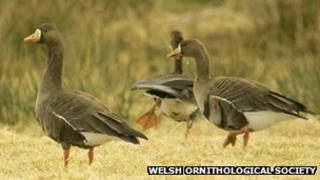 Bird watchers in the Dyfi Estuary have heaved a sigh of relief after the first Greenland white-fronted geese arrived, but over a month late.
The extremely rare birds usually arrive in Wales during the first two weeks of October.
They mate in Greenland and Iceland but migrate south in family groups during the winter.
Scientists are exploring a range of explanations for the decline, including climate change and loss of habitat.
Numbers are also down with only 55 arriving at the RSPB's Ynys-hir nature reserve this year compared to 167 during the late 1990s.
Ynys-hir manager Dave Anning said: "You can usually set your watch to them, but this year for some unknown reason they arrived later than usual.
"We're also seeing fewer and fewer come back every year, it's a real concern.
"The geese return here every winter, the parents leading young birds on their first trip and family groups feeding and roosting together on the saltmarsh and pasture fields surrounding the estuary.
"If we lose that connection, they'll be gone forever."
Whilst it is not thought to directly contribute to the lower-than-expected numbers, the RSPB is also concerned an outright ban on hunting the geese has not been put in place by the Welsh government.
'Highly loyal'
A voluntary agreement is currently in force around the Dyfi Estuary, however as the birds' migratory patterns become increasingly erratic, the Greenland white-fronted geese are also roosting in farmland elsewhere in Mid Wales, where they are not protected.
Greenland, Iceland, Scotland and Ireland already ban their hunting, leaving Wales and England as the only two jurisdictions in their natural range where the geese are not protected.
The UK is thought to host about half the white-fronted goose population of around 25,700 each winter.
The birds are thought to be "highly loyal" to the sites where they spend the winter, so if those populations are killed off the locations are unlikely to be reoccupied by younger birds with no parents to teach them where to land.
Only a small number are thought to over winter in Wales but some sites where they could be found has already been lost.