Ceredigion floods: Emergency exercise tests Talybont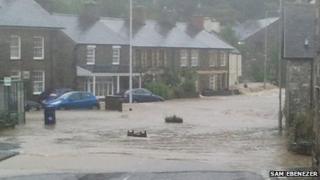 Villagers forced to flee their homes in Ceredigion following torrential rain have put a flood plan to the test in an emergency exercise.
About 26 properties in Talybont, near Aberystwyth, were flooded when a month's worth of rain fell in 24 hours in June last year.
Volunteers from the community played out a scenario to test the arrangements they had put in place.
They also trialled the roles villagers would play in an emergency.
As part of the exercise by Natural Resources Wales (NRW), residents installed flood gates to their properties to make sure they could fit them quickly and efficiently.
NRW said it would work with the volunteers to identify areas where the flood plan could be strengthened.
Talybont, Aberystwyth, Dol-y-Bont, Penrhyncoch and Llandre were among the areas affected by the rising water on 8 and 9 June last year.
Some areas had 5ft (1.5m) of standing water, with caravan parks, homes and businesses all suffering from the effects of the deluge.
Many of those who had to leave their flood-hit houses stayed in temporary accommodation for up to 10 months.
Simone Eade of NRW said: "People in Talybont experienced a terrible ordeal last year when the village flooded and we want to help make the community better prepared to deal with flooding in the future.
"Over the last 12 months we've been working closely with volunteers from the community to develop a plan which captures all the important information and actions they need to take if a flood warning is issued.
'Traumatic'
"We can't prevent all flooding from happening, but if floods were to threaten the area again in the future, the hard work these volunteers have put in now will mean that they are better placed to respond and protect their homes."
The exercise was supported by Ceredigion council, Dyfed-Powys Police and Mid and West Wales Fire and Rescue Service whose crews took part.
Ceredigion council leader Ellen ap Gwynn, who lives in Talybont, also participated. She said it was essential "we find out how resilient Talybont would be if it ever happened again".
"As traumatic as the floods were, it really brought the community together and the hard work that went in to getting ourselves back on our feet has continued as we, together with partners from other agencies, plan how to deal with any such incidents in the future," Mrs ap Gwynn added.
A new village flood warning service is being developed and is planned to go live in autumn 2014.